All nightclubs in London enforce some sort of dress code and Café de Paris isn't an exception! To maintain an A-list, fashionable crowd Café de Paris has a dress code door policy which is smart & sexy. Believe us there is a strict selection, below some tips regarding the dress code for ladies and gents.
Ladies Dress Code:
Every girl wishes to stand out from the crowd. So ladies, put your prettiest cocktail or party dress on and shine! If you prefer to choose a safe option, little black dress, you can never go wrong with that! Also, high heels are essential. It doesn't matter if it is a pair of your favourite pumps or stilettos as long as they make you stand tall and feel confident! The final suggestion, it's your night out so avoid your everyday casual look.
Your hairstyle and makeup must go along with your outfit! Whether you go for beautiful curls, a sophisticated bun or a simple ponytail, make sure you are flawless. When it comes to makeup, remember that less is more, but cat-like, smokey eyes or red lips are a good option. See gents dress code ↡↡↡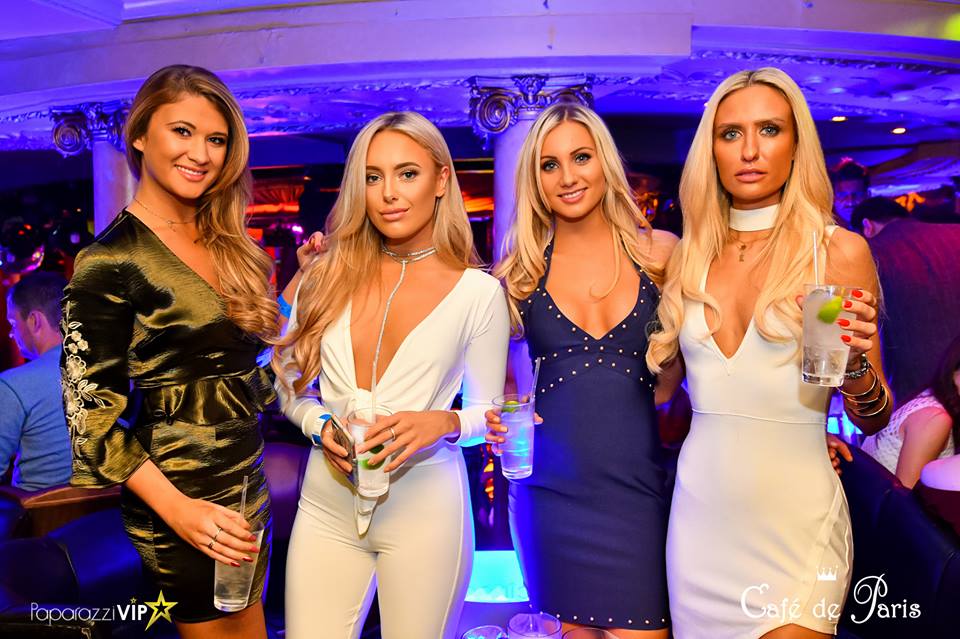 Gents Dress Code:
The dress code is the most important criteria that will define whether or not you enter the club. For Cafe de Paris you have to look sharp and elegant. A nice shirt with smart trousers or dark jeans together with a stylish coat can be an option. And never forget about shoes! Smart shoes are essential. Avoid sportswear at all costs! This includes shorts, sandals or open shoes, athletic shoes or baseball hats. If your outfit does not meet dress code criteria set by the venue, it is very likely that you will be sent back home, therefore missing the best party in the town!
Opened in 1924, London nightclub Café de Paris is one of the most popular and regularly visited clubs in the city. Its astonishing interior design is a mix of burlesque theatre style and opulent French decor. The spacious venue has the DJ booth set in the centre of the clubs dancefloor, surrounded by VIP tables, where you will find a very fashionable clientele. When there's not a DJ on stage, you can expect to see live burlesque shows that go on all night long! Don't be surprised if you rub shoulders with your favourite celebrity as every Saturday night the party at Café de Paris is hosted by stars from the shows Made in Chelsea and The Only Way is Essex!
Now that you know what to wear to look and feel good join us at the party in the Cafe de Paris! For more info & VIP table bookings contact us at +44 (0)77 6916 9101 or email us at vip@luxguestlist.com.
Join Lux Guestlist for Cafe de Paris HERE.


Want to know about Café de Paris weekly parties? Like us on Facebook and follow us on Twitter and Instagram!