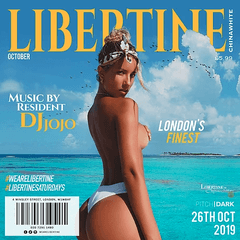 Saturday - Paris to London - Libertine by Chinawhite
Libertine London

– 10:00h –
RnB and Hip Hop
Local and International
21+
Glam and sexy
Complimentary entry for GIRLS before 11 PM , GUYS £20 cover all night.
Libertine, situated just off London Oxford Street, is the hottest club in London's West End. Saturday's at Libertine has become the best place to be seen. You will find the hottest DJ's, dancers and a young and beautiful crowd having the time of their lives. Libertine has a very glamorous interior decor with pink sofas and black walls, this creates a very posh but intimate ambiance that you will love to be in. Be sure to get there early before the dance floor becomes impenetrable! Table booking is highly recommended to avoid disappointment.
Music at Libertine London
Photos of Libertine London
Libertine London
Join Lux Guest List or book your VIP table and party at Libertine, exclusive club located in the heart of Fitzrovia. Read more
Chinawhite, one of the most iconic nightspots in London, has relaunched as a very sophisticated nightclub called Libertine. It is an ultra-modern club with three different spaces including a molecular cocktail lounge named Reason & Mankind, perfect spot to start the evening. Libertine is definitely a new concept in the London nightlife scene. The once Asian-themed club changed its concept to a very fresh, sophisticated and futuristic venue perfect for the VIP partygoers. For those who want a more private area, Libertine has an extremely VIP private room behind a secret doorway offering a discreet space for the privileged ones. Everyone is talking about this renewed club and has had some great critiques. Join our Lux Guestlist Wednesday's, Friday's, Saturday's and Sunday's and live the "Libertine experience".