Address: 1 Dover Street, Mayfair W1S 4LD London
Club Mahiki is situated on Dover Street in the heart of Mayfair. The name Mahiki comes from the Polynesian path to the underworld and it is embodied in the clubs interior decor that consists of hand-made chairs, colourful Hawaiian cushions and hand-carved Tiki figures. Spread over two floors and with no VIP room, Mahiki has a unique vibe different from any other London club. VIP Mahiki prides itself on its fun atmosphere and the creative detail that goes into every drink they serve.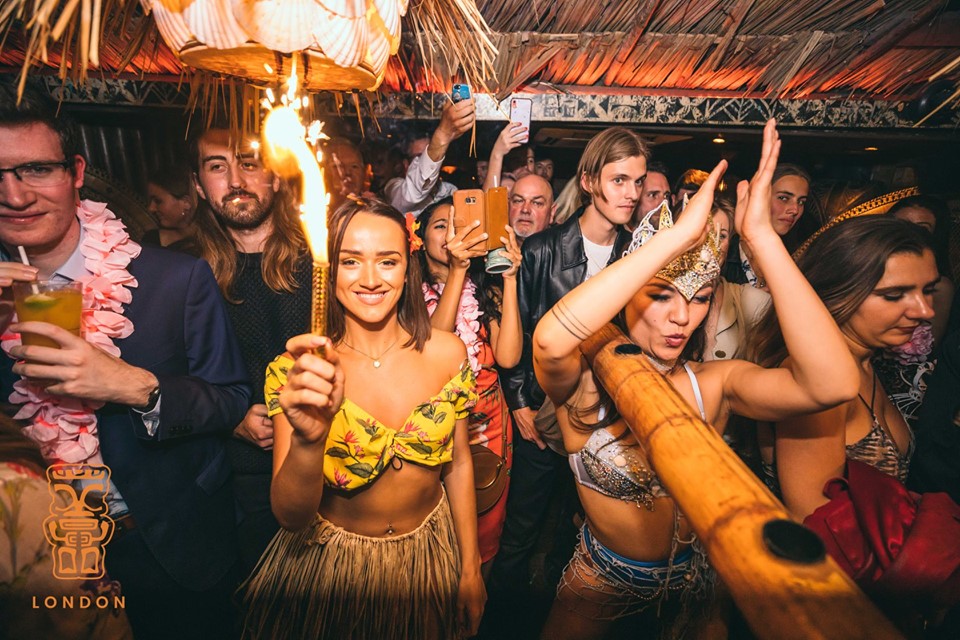 Mahiki is well known for its cocktails menu which has been designed exclusively for the club. The best mixologists prepare the cocktails right in front of you with the freshest ingredients and served in tropical themed glasses. Their famous Piña Coladas are served in real pineapples others are served in Tiki mugs and even treasure chests. The proper treasure chest is filled with a fruity champagne concoction with dry ice and sparklers. If you are visiting Mahiki expect to be transported to a tropical island.
Mahiki Mayfair is opened from Monday to Saturday being Friday its most popular night. Every Friday they encapsulate the Aloha spirit, offering you an unforgettable experience. The club has an amazing and friendly atmosphere and hosts a very exclusive crowd. Many celebrities have been spotted partying at Mahiki like Drake and Rihanna. Tiki-Cups, good music, what else do you need for a unique Friday night out in London?
Enjoy Fridays the best way possible, join our Mahiki guestlist! For more info & table booking at Mahiki Mayfair contact us at +44 (0)77 6916 9101 or email us at vip@luxguestlist.com.
Join Lux Guestlist for Mahiki Mayfair HERE.

Want to know about our weekly parties? Like us on Facebook and follow us on Instagram!