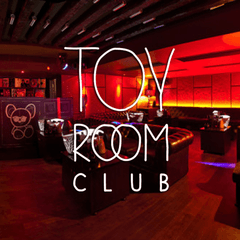 Saturday - Toy Room
Toy Room

– 09:00h –
Hip Hop/RnB
Local and International
18+
Smart Dress Only
Toy Room is a sexy and stylish venue located on Swallow Street just off Regent Street in heart of London's Mayfair. Every Saturday night you will find the finest DJ's spinning sets of the hottest Hip Hop and R&B tracks and lots of pricey bottles being popped on each table! The clubs capacity is for 180 people and only have 12 tables available. With this said, you are very lucky if you get passed through the doors! If you do, get ready for a wild night surrounded by a hot and cool crowd! "Frank the Teddy", the clubs mascot, will also be around making sure everyone lives the real Toy Room experience. See you there!
Photos of Toy Room
Toy Room
Toy Room Club London, an exclusive and intimate boutique venue located in the heart of Mayfair. Read more
Toy Room is a boutique club located in the heart of Mayfair and has established itself as one of Mayfair's hottest destinations. Toy Room is a small and very intimate club with a capacity of 180 people and only 12 tables available. The club was born from the partnership of two of the biggest names in London's nightclub scene and the music policy is strictly R&B and Hip Hop presenting world-class Hip Hop DJs.
Expect a stylish and elegant interior decor and a very fashionable crowd. No memberships will be available as they want to be able to handpick who will make it through the doors. If you are lucky enough to pass the strict door selection get ready to experience an elite and memorable night out. Toy Room should definitely be on the top of your list of venues to check out. Table booking is highly recommended.