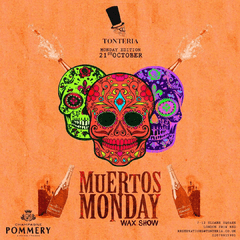 Monday - Muertos Monday - Tonteria
Tonteria – 11:00h –
RnB, House and commercial
Local and International
18+
Smart and elegant (Guys must wear collared shirts and shoes)
Complimentary entry for GIRLS before 11 PM, GUYS £20 cover all night.
Fancy a bit of Monday night madness? Tonteria is known for having the best Monday nights in London! If you are looking for a different club to spend the night with friends, this is the perfect venue! It is a Mexican themed club with a very exciting concept and a classy but wild atmosphere. Join our Lux Guestlist and dance all night to the rhythm of a perfect mix of top 40's, R&B, HipHop and golden classics. At Tonteria you will always find fantastic cocktails and the best-frozen margaritas, served by a friendly team of staff. What better way to start your week than with Lux Guestlist at Tonteria!
Music at Tonteria
Sala principal
RnB, House and commercial
Photos of Tonteria
Tonteria
Tonteria, exclusive mexican themed nightclub, lounge and cocktail bar located in Sloane Square London. Read more
Tonteria is the mad Mexican tapas lounge & tequila nightspot on Sloane Square. During early evening Tonteria specializes in offering mouthwatering bite-sized Mexican tapas alongside delicious tequila cocktails. We love sharing at Tonteria and we have some famous sharing cocktails inspired by Mexico's heritage and culture, this includes: "The Mayan Pyramid", "The Lucky Luchador" and "The Tequila Slammer". As the evening approaches, The DJ swiftly gets the music pumping, whilst the lights dim and Tonteria turns into a fun and festive nightspot. The emphasis is on theatrical entertainment. Look out for the Tonteria performers and the Toy Train that delivers drinks to your table. Join Lux Guestlist to experience this 'loco' London hotspot.