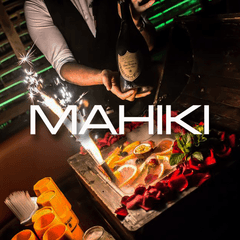 Monday - Mahiki Mayfair
Mahiki Mayfair

– 10:00h –
Commercial House, Pop, R&B, Party Anthems
Local and International
Monday 18+ other days 21+
Smart Dress Only
Who said Monday's are so bad? The people that haven't been to a Mahiki Monday! Mahiki is one of the most famous clubs in London's Mayfair. Mahiki is known as a club lounge with a very exclusive clientele. With its warm Polynesian decor, it truly allows us to escape for an evening and indulge in its beautifully presented cocktails. Bottle service at Mahiki is far from ordinary, you can expect a parade to storm through the club on the delivery of your bottle. The club has been honored to host many celebrities like Rihanna, Drake and much more. Join Lux Guestlist for a mad Mahiki Monday.
Music at Mahiki Mayfair
Sala principal
Commercial House, Pop, R&B, Party Anthems
Photos of Mahiki Mayfair
Mahiki Mayfair
Mahiki London: an exclusive Polynesian-themed club located in Piccadilly on the Mayfair area. Read more
Mahiki is a club/lounge located at the corner of Dover Street in the Mayfair area of London. It is known as one of London's most popular clubs. Mahiki has a very exclusive clientele that includes celebrities such as Rihanna, Lady Gaga, Drake, among others. It has a Polynesian-inspired interior decor that makes you feel you are actually in a tropical island paradise. The lounge is filled with bamboo furniture, seashell lamps, and tropical plants. It also has a great menu of creative and tasty cocktails served in Tiki mugs, coconut shells and treasure chests. If you are a cocktail lover looking for something different, you must visit this unique and peculiar club.