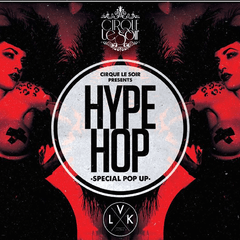 Wednesday - Hype Hop - Cirque le Soir
Cirque le Soir

– 10:30h –
RnB, Hip Hop and House
Local and International
21+
Glam and Sexy
Wednesdays at Cirque le Soir have taken the midweek party scene to a whole new extreme! If you're looking for something completely out of the ordinary then come down and join Lux's guest list to watch the Wednesday night as they display an erotic style circus-themed performance full of dancing, clowns and crowd interaction. This is one evening of midweek madness you DO NOT want to miss.
Photos of Cirque le Soir
Cirque le Soir
Join Lux Guest List and party at the most exclusive club located in Oxford Circus: Cirque le Soir! Read more
Cirque le Soir is one of the most exclusive nightclubs in the world! Located on Ganton Street, near Carnaby Street in London, Cirque le Soir is renowned for its outrageous acts, VIP clientele and memorable parties. Its Moulin Rouge style entrance is sure to catch the eye of any passers-by. Since its red-hot inception in 2009, Cirque le Soir London has perfected the immersive experience in a range of all-encompassing sets, stages and installations. If you've never been, it is one of London's must-visit locations. Prepare to be dazzled, join Lux Guestlist to experience a club like no other.