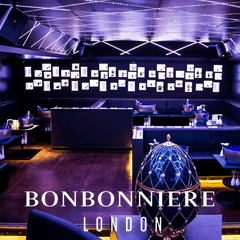 Saturday - Bonbonniere
Bonbonniere – 10:00h –
Commercial House, RnB, Hip Hop
Local and International
21+
Dress to Impress
Guestlist for MALES only not available, please Call/Whatsapp for table booking.
Saturdays at Bonbonniere has established as one of the hottest weekend parties in London. If you are a VIP clubber it is a must for you to visit this luxurious venue! Bonbonniere has quickly become the celebrity venue of choice. Familiar faces are spotted every weekend including Will I Am and Nicole Scherzinger. In a sumptuous setting, inspired by the infamous Fabergé Egg, you will dance the night away to the rhythm of the best House music and commercial hits. It has a strict door policy, so take out your best outfit and heels and party with Lux Guest List at this sophisticated venue. Come and see for yourself what all the fuss is about!
Music at Bonbonniere
Sala principal
Commercial House, RnB, Hip Hop
Photos of Bonbonniere
Bonbonniere
Bonbonniere is an elegant club located in Soho with a sophisticated decor inspired by the infamous Fabergé Egg. Read more
Bonbonniere reopens in the premises where Paper SOHO used to be!
Located in the heart of Soho's exclusive social scene, Bonbonniere is an elegant nightclub with a sumptuous and sophisticated decor inspired by the infamous Fabergé Egg. The venue was designed to separate itself from the mainstream with an exceptional interior with some seriously grand opulence dripping from every inch of the club. Bonbonniere is a popular pit-stop for London's VIP clubbers and celebrities including Paris Hilton, Will.I.Am, Nicole Scherzinger, Tinie Tempah and Jordan Dunn. The venue offers award-winning cocktails and an unbeatable ambiance with bottle service, DJs, shows and acts that grace the rich and famous with a night to remember. The Bonbonniere name is synonymous with high-end nightlife in the capital and has to be seen to be believed. We are looking forward to partying with you at this luxurious London club.