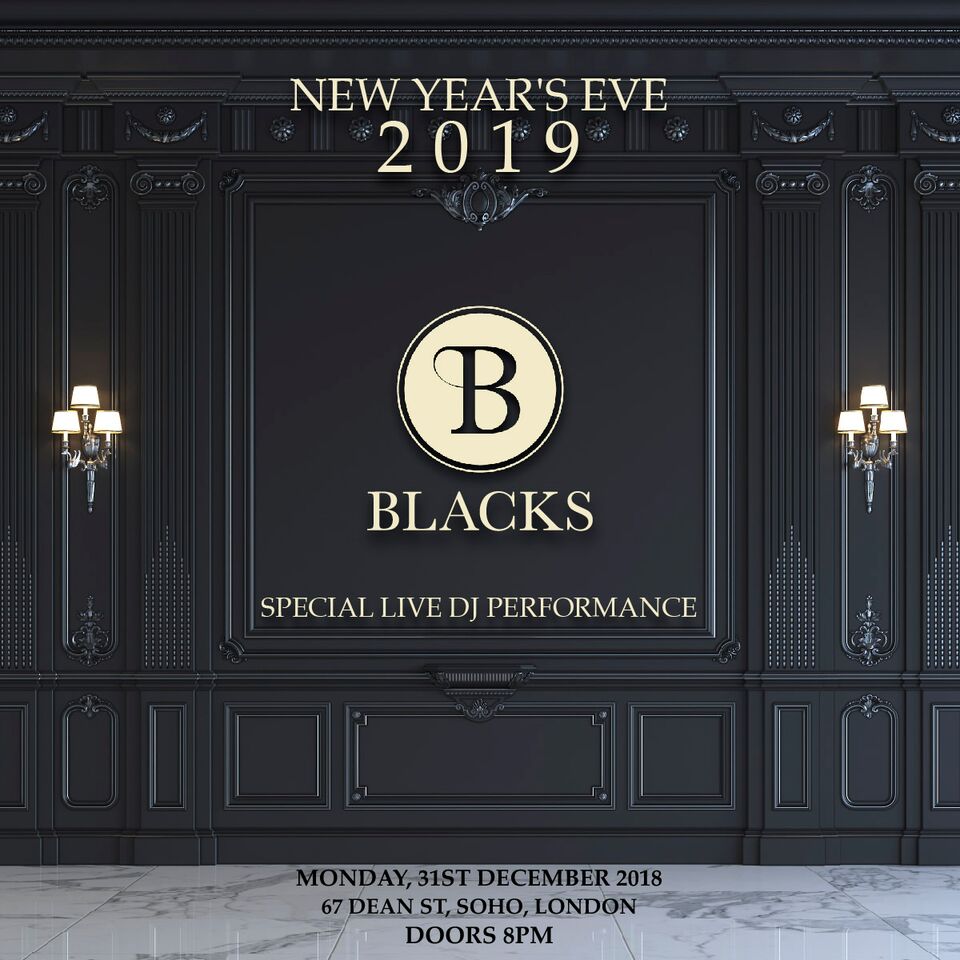 EVENT DETAILS:
Date: 31st December 2018
Time: 8 PM - 4 AM
Address: 67 Dean Street London, England W1D 4QH
Dress Code: New Year's Eve Festive - Cocktail / Semi-Formal Attire
Age: Over 18
Entry Fee: General Admission £30 / General Admission - Fast Pass £40

Get exclusive access to Blacks Club, an elite members club in London's popular Soho neighbourhood for its New Year's Eve party. From its shopping to its nightlife scene, this vibrant neighbourhood is the epicentre of all things entertainment, so it's no surprise that the most elite party of the year is happening here. Prepare for the most luxurious New Year's Eve you've ever had.
The elusive social club is opening its doors to those who can snag a ticket to its epic party this New Year's Eve. A live DJ will spin an electrifying mix of the year's best hits, putting together mash-ups and remixes never heard before. Guests will dance across historic grey floors and mingle next to a marble framed fireplace before getting ready for a party-wide countdown. In the seconds before midnight, glasses of complimentary champagne will be passed so you and your friends can toast to the New Year in style. Though you'll already be sitting in the lap of luxury, VIP packages are available for those who are thirsty for more amenities such as reserved seating and bottle service.
Class and entertainment collide in the beautiful London Georgian townhouse where Blacks resides. This 1732 gem has been modernized brilliantly and now stands as one of the most refined entertainment destinations in London. From the dark grey walls to the leather tufted furniture, there is no shortage of stunning decor at Blacks Club. Swirl past floral banquets and long windows that look out onto the streets of Westminster. The walls are saturated with works of art in various styles, making you wonder if you've stepped into an art gallery or the finest club in London. It's the latter, and events at Blacks are not to be outdone.
Blacks Club reminds you of the most private cigar lounge that you could never get access to – until now. The club, normally accessible only to members, is offering limited access to those with a ticket this New Year's Eve. For a key to this elegant gem, pick up a ticket now and experience New Year's Eve in London like never before.
VIP TABLE BOOKING:
Small Standart: £500 up to 6 mixed guests + £20 covers ticket
Large Standart: £750 up to 8 mixed guests + £20 covers ticket
VIP: £1250K up to 10 mixed guests + £20 covers ticket
VIP II: £1500K up to 12 mixed guests + £20 covers ticket
TICKETS FOR NYE PARTY AT BLACKS CLUB:
General Tickets: £30
Fast Pass Tickets: £40
FOR INFO & TABLE BOOKING CONTACT US AT:
• Mobile/Whatsapp +44 (0)77 7509 2749 or +44 (0)77 6916 9101
• Email vip@luxguestlist.com
TICKETS ARE NON-REFUNDABLE.

NATIONAL PHOTO ID CARDS IS MANDATORY, NO ID NO ENTRY! DRIVE LICENSE OR PASSPORT ARE ACCEPTED.