Join us at 100 Wardour St to welcome in 2019, this year we are throwing Soho's ultimate New Year's Eve party Cirque
d'Soho
!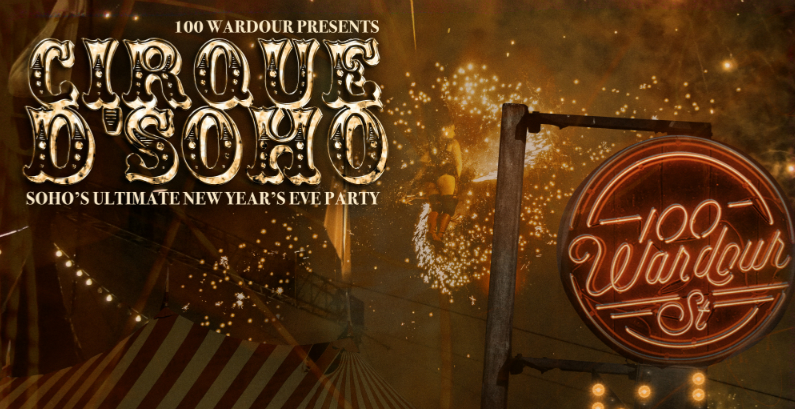 EVENT DETAILS:
Date: 31st December 2017
Time: 20:30 - 04:00
Address: 100 Wardour Street London, United Kingdom
Dress Code: Smart & Elegant
Age: Over 21
Entry Fee: To be confirmed.

Cirque d'Soho entertainment will be provided courtesy of jugglers, contortionists, acrobats, stilt walkers and a few surprises thrown in! Presided over by Ringmistress Lady Alex, an eclectic mix of mesmerising performers will create a truly immersive circus experience as we welcome 2018.

Bask in the glory of burlesque bombshell Ruby Deshabille, take a step into Professor Kelso's mystic caravan, and be dazzled by Storm Hooper – a visual circus spectacle that has to be seen to be believed.

And if you happen to spot one Leah Debrincat? Keep those eyes open because this painted lady is also a sword swinging, fan-waving princess.

The Fellas will be providing the music on the night taking you from 2017 to 2018 in true party style! The Fellas bring the hottest jams from the nineties and noughties back to glorious life with their soulful vocals, slick raps and soaring horns.
LIVE ENTERTAINMENT LINE-UP:
21:00 – 21:45 – The Gents (Quartet set 1)
22:15 – 23:00 The Gents (Quartet set 2)
23:30 – 01:00 – The Fellas (main 7 piece band)
01:00 – 04:00 – Per Pedersen
01:00 – 04:00 – Jamie Walker (percussion)
Event Curfew: 04:00
TICKETS FOR NYE PARTY AT 100 WARDOUR ST:
Advance Ladies Tickets: To be confirmed.
Advance Gents Tickets: To be confirmed.
FOR INFO & TABLE BOOKING CONTACT US AT:
• Mobile/Whatsapp +44 (0)77 7509 2749 or +44 (0)77 6916 9101
• Email vip@luxguestlist.com
TICKETS ARE NON-REFUNDABLE.

NATIONAL PHOTO ID CARDS IS MANDATORY, NO ID NO ENTRY! DRIVE LICENSE OR PASSPORT ARE ACCEPTED.