Unusual London Cocktails
Monday, 23 of April of 2018
Fancy a drink with a twist? Some cocktail bars in London go above and beyond to create the most sensational and out of the box cocktails that have to be seen to be believed. We've rounded up the most peculiar cocktails in the capital that you must try at least once in your life.

From exotic ingredients to ingenious glassware, below our pick of the TOP 10 unusual London cocktails:
Beyond the Sea at Nightjar
Address: 129 City Rd, Hoxton, London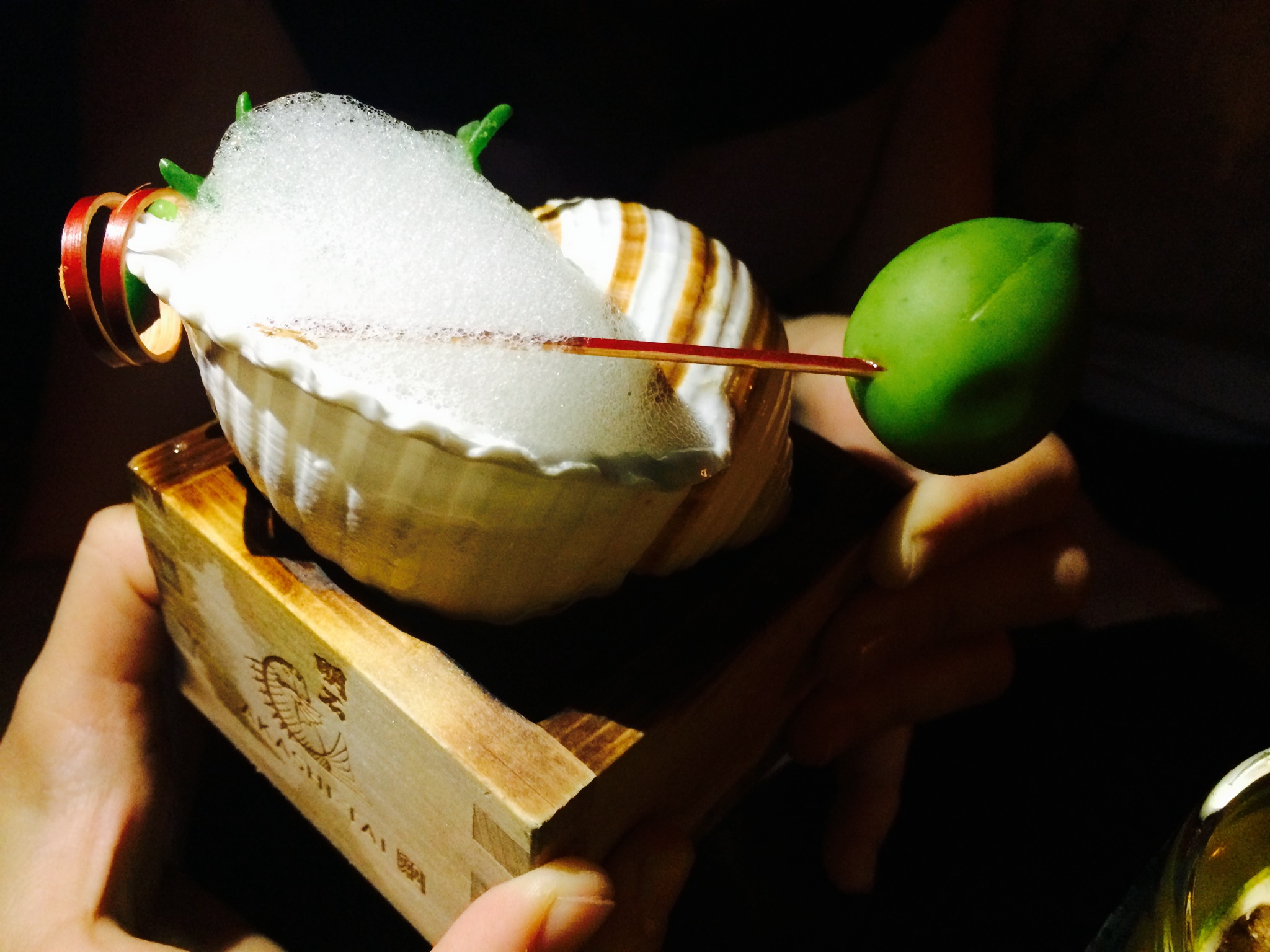 Nightjar is a destination for discerning drinkers to meet, linger and relax with high-quality cocktails, attentive personal service and a vibrant and varied live music programme. Nightjar also knows how to do quirky drinking vessels, but this is the star of the show. With Gin mare, Oyster leaf infusion, Fino Sherry, Pink Grapefruit, Plankton Air, Ume & Yuzu salt, it offers your paladar a unique experience.
Champagne Papi at 7 Tales
Address: 64 Turnmill St, London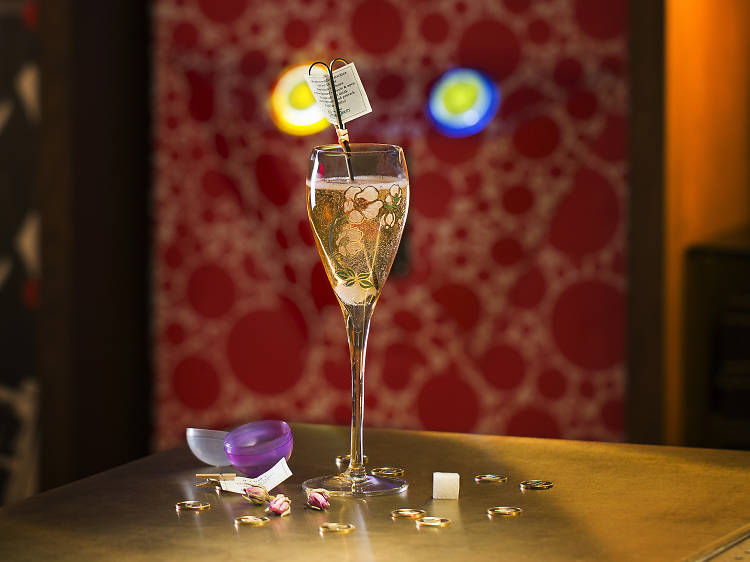 Hiding in Sosharu, Cocktail bar 7 Tales captures the buzz and debauchery of Tokyo after dark with neon lights, hip-hop beats and vending machines. Drinks are innovative in flavour and deceptively simple to the eye. If you go to this super cool Japanese inspired basement we strongly recommend you order the "Champagne Papi"; you will be served quite the spectacle! We don't want to reveal much but a vending machine, absinthe infused sugar cube presented in a baggy and a kinder egg style plastic bubble are all part of the final drink which also happens to be extremely delicious.
All Tomorrow's Parties at Dandelyan
Address: 20 Upper Ground, South Bank, London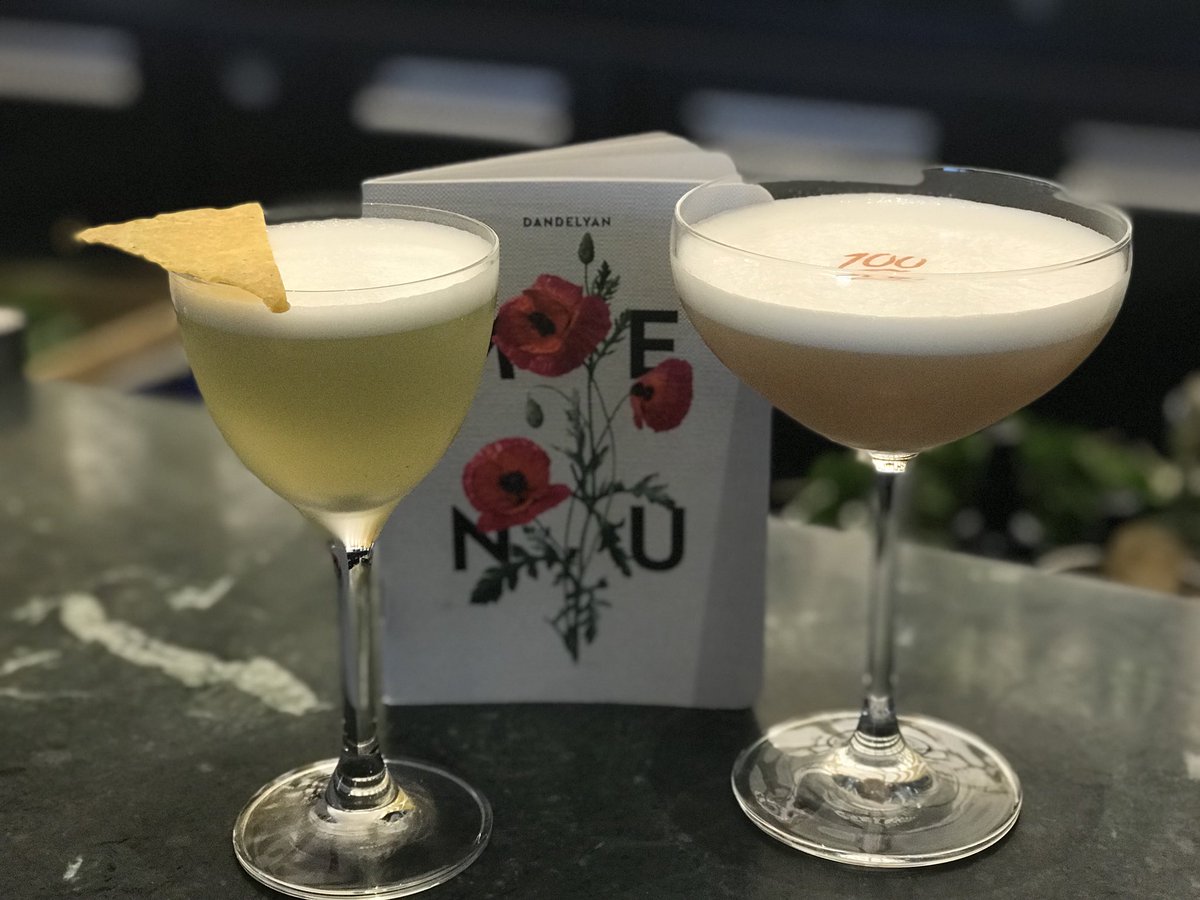 Dandelyan transports its guests to a place where they can lose themselves in exotic flavours, magnetic conversation and unexpected combinations. More than a bar, Dandelyan is a journey of discovery where new tastes and unexpected combinations can be experienced and enjoyed. One of our favorites is their "All Tomorrow's Parties" – a gin-based cocktail with green tea and grapefruit – is based on life-giving energy molecule ATP as well as the bar's fave music festival. Plus, it comes with a freakin' emoji on the top. Amazing!
Champagne Piña Colada at Coupette
Address: 423 Bethnal Green Rd, London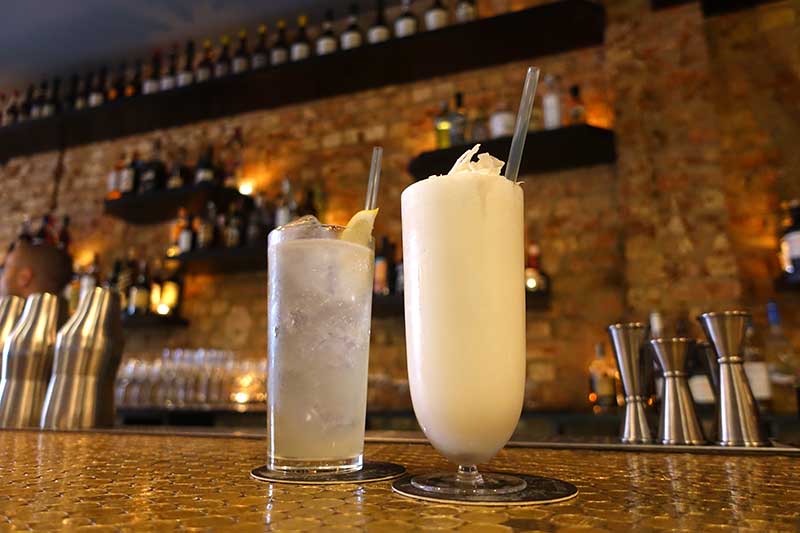 Coupette is a cool cocktail bar that sells itself as "inspired by France but proudly local" (to east London, that is). At Coupette Champagne piña colada is the showstopper; a mix of Bacardi Heritage, French- Caribbean agricole rum, pineapple and coconut sorbet, topped up with Moët & Chandon brut. It is a creamy, light, tropical, chic and exquisite Piña Colada. It may be the best new cocktail in London!
Brockwell Park Bramble at First Aid Box
Address: 119 Dulwich Rd, Herne Hill, London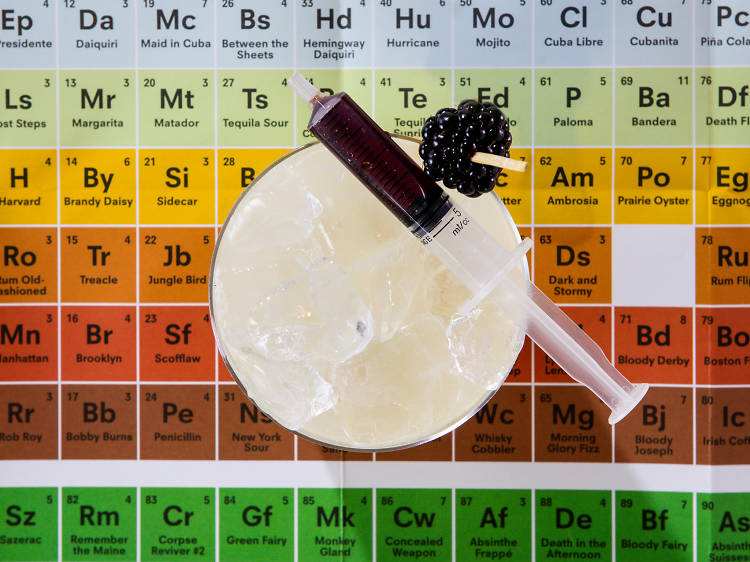 The concept at First Aid Box London is health, nutrition and doctors orders but with an unusual alcohol based twist. There's definitely a pharmaceutical look at First Aid Box, which is fitting since the drinks definitely cure whatever ails you. Order up this one for a quirky fix, with gin, maraschino and bitters served with a syringe of Chambord on the side for an extra shot in the arm.
Egg & Bacon Martini at London Cocktail Club
Address: 224a Shaftesbury Ave, London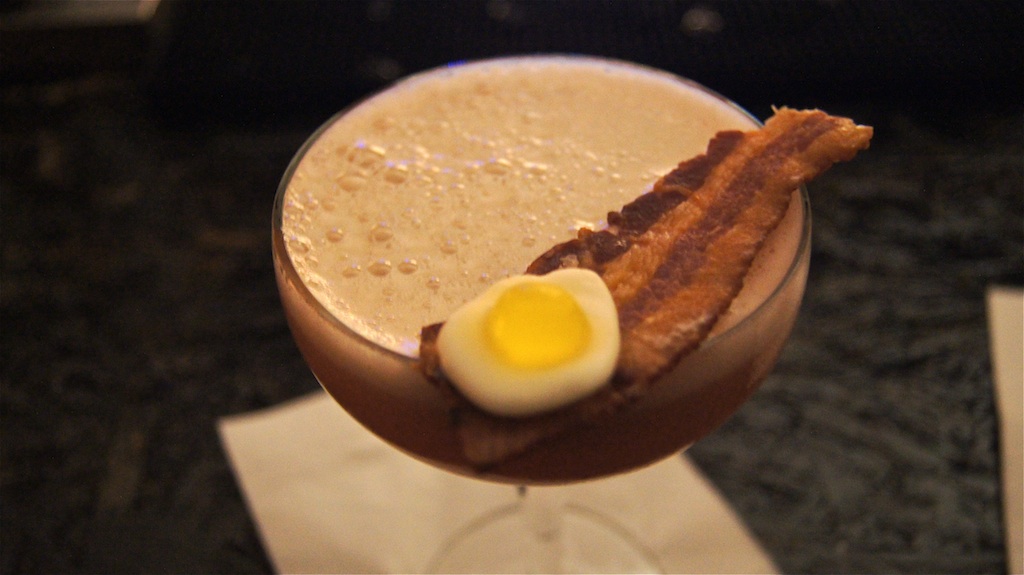 The London Cocktail Club was opened in 2008 with the intention of creating a bartenders paradise - a bar that parties like the best of them and mixes the worlds greatest drinks to perfection. The Egg and Bacon Martini it's a wacky twist on a martini that should quench the average Londoner's thirst for brunching and boozing in one fell swoop. The drink combines bourbon with maple syrup, egg white, lemon juice, bitters and, of course, a rasher of bacon and a haribo egg. We dare you to taste it!
Opium #6 at Opium
Address: 15-16, Gerrard St, London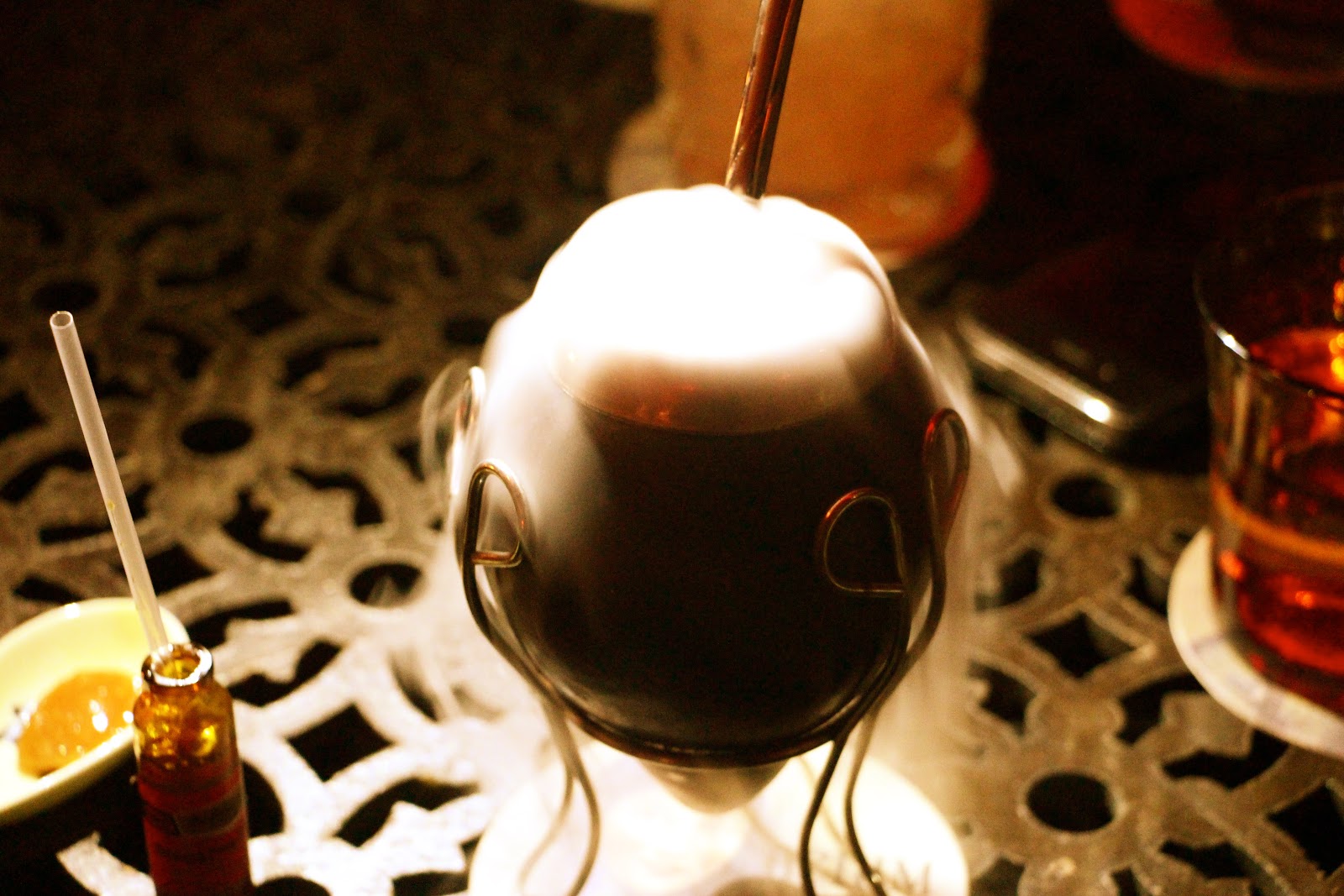 Someone's gone to a lot of trouble to make this Chinatown cocktail bar and 'dim sum parlour' look shabby. The design is Eastern smoking den meets Western hipster hangout. It's all very theatrical – but that's nothing compared to the drinks. At Chinese drinking parlour Opium, the oriental apothecary vibes are carried through in a drink that spews a cascade of smoke ferociously out and down the side of the glass for a good stint after being poured. It's a magic trick of a drink and it's one worth savouring thanks to tequila, ginger and oolong tea.
Ninfeo at Untitled Bar
Address: 538 Kingsland Road, London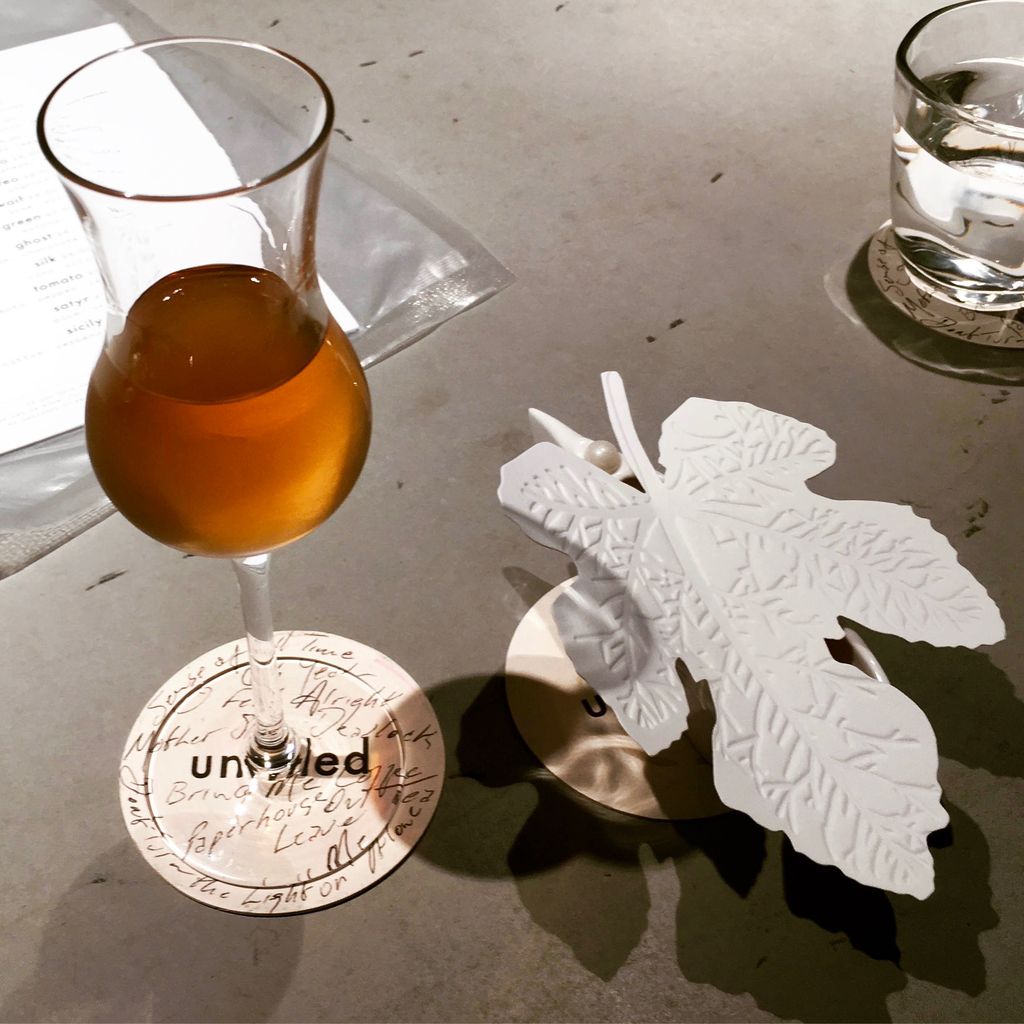 Untilted has a Japanese inspired food menu served alongside a unique and innovative drinks list created by the renowned Tony Conigliaro. Untitled is a place to eat, drink and socialize in a relaxing atmosphere. His most famous cocktail? Ninfeo served in the ultimate drinking vessel – a vagina-shaped receptacle. But don't worry, it's hidden under a fig leaf fashioned from paper to save any blushes round the table. The drink itself is a sweet, smooth and yoghurty tipple sent from Eden.
Prairie Oyster at 69 Colebrooke Row
Address: 69 Colebrooke Row, London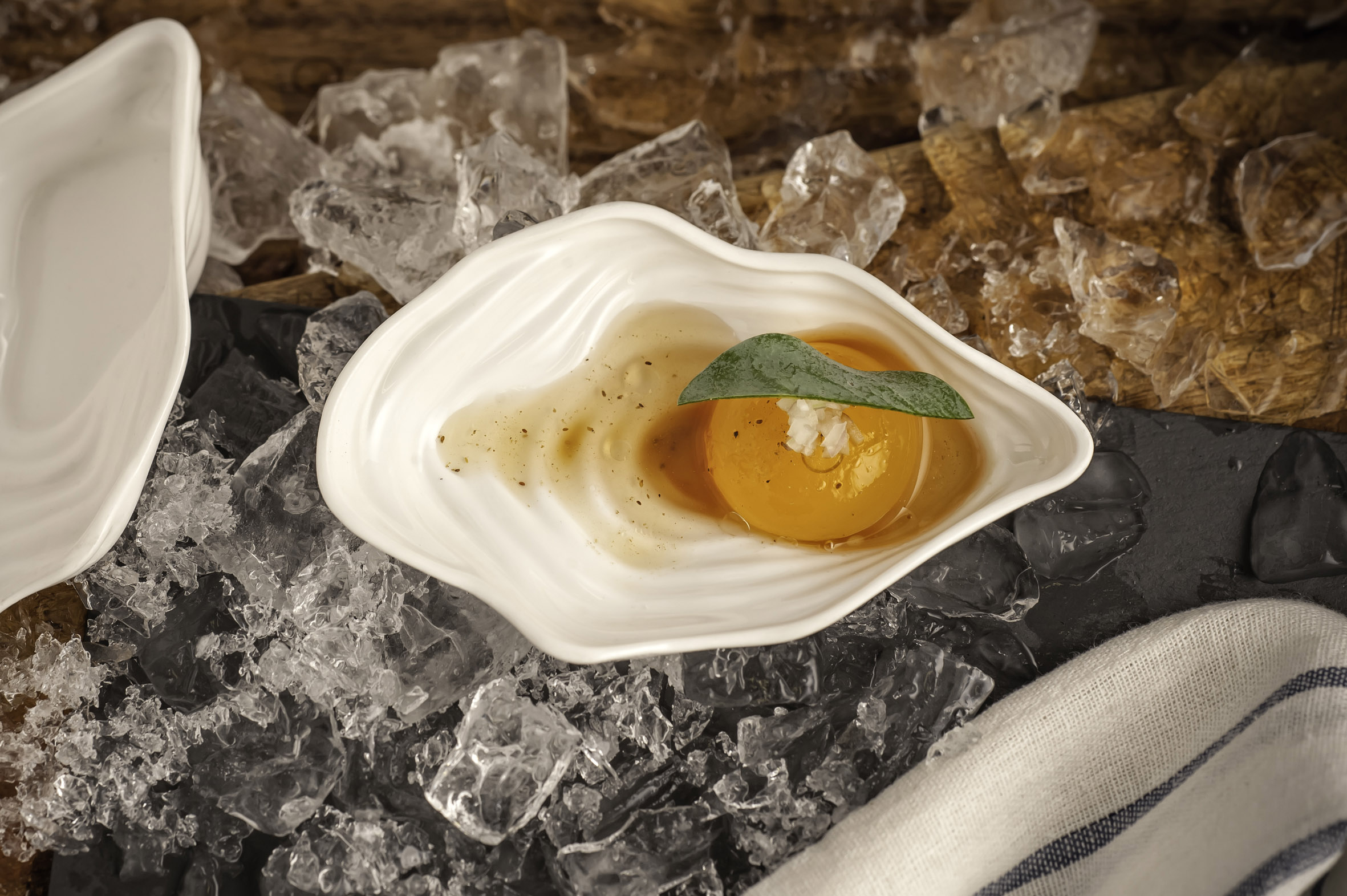 Open since June 2009, the award-winning cocktail bar is located on a backstreet of Islington. Identifiable by an outdoor lantern, it is a unique cocktail bar housed in one intimate room. The interior blends 1950s Italian Café style with a Film Noir feel. One of their most famous cocktails? The Prairie Oyster, a mock egg yolk from re-clarified tomato juice served in a pool of horseradish vodka, green tea spice mix and 'oyster leaf' herbs. It might still sound pretty weird, but it sure slips down easily. Served in a white China oyster shell, it's also insanely photogenic — an all-around great little cocktail.
Londoners are spoilt for choice when it comes to quircky cocktails. Get out there and try some!