Communion Bar London
Wednesday, 15 of July of 2015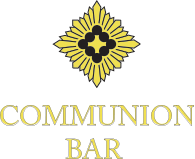 Want to get some drinks before heading to the club? If you love cocktails as much as we do, we got the perfect venue for you: Communion Bar! This is a very original and unique bar that offers an exquisite menu of handcrafted cocktails served with a mouthwatering variety of flavors, perfectly mixed, looking like a work of art. To accompany the amazing experience, they also serve incredible tapas made on the restaurant upstairs called Angels and Gypsies.
Communion Bar, as the name suggests, is a church themed venue and it definitely works (if you are not religious and easily offended). The venue has impressive stain glass designs and tables adorned with the body and blood of Christ. It is good to see something different once in a while. A bar with a super original concept that knew how to stand out and call the attention of people like us, wanting to experience uncommon and unconventional experiences.
Some of their tasty cocktails:
* Uncle Mauby: Homemade pineapple wine, fresh Granadilla (Colombian passion fruit), white & dark rum, Mauby bark syrup & lavender sugar.
* Red Pebble: Five bark herb and bush Gin, Belsazar sweet Vermouth, homemade pomegranate syrup with Peychaud's bitters and Prosecco top.
* Nurse Pinoy: In honor of the dedicated Filipino nurses at King's Colledge Hospital - Crioleo Cacao Elements Eight Rum, Lemon & Calamansi Juice.
Find the complete list here.
They also have live music every Friday, Saturday, and Sunday.
What are you waiting for? Stop reading this and go grab one of their delicious cocktails surrounded by an unbeatable ambiance! You won't be disappointed!
Opening Times:
Thursdays & Sundays: 6 pm - 1 am
Fridays and Saturdays: 6 pm - 3 am