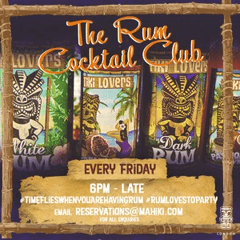 Friday - The Rum Cocktail Club - Mahiki Mayfair
Mahiki Mayfair

– 10:00h –
Commercial House, Pop, R&B, Party Anthems
Local and International
Monday 18+ other days 21+
Smart Dress Only
Planning on going out this Friday night? Want to do something different? Then we strongly recommend you join our Lux Guestlist at Mahiki! Mahiki is a Hawaiian paradise located in Central London's Mayfair. The main reason why you must check out Mahiki is for their extensive list of delicious and tasty cocktails served creatively in treasure chests & coconuts! At Mahiki you will always find a fun and friendly atmosphere. Don't be surprised if you bump into one or two familiar faces as Mahiki is famous among an A-list crowd, celebrities and royals.
Music at Mahiki Mayfair
Sala principal
Commercial House, Pop, R&B, Party Anthems
Photos of Mahiki Mayfair
Mahiki Mayfair
Mahiki London: an exclusive Polynesian-themed club located in Piccadilly on the Mayfair area. Read more
Mahiki is a club/lounge located at the corner of Dover Street in the Mayfair area of London. It is known as one of London's most popular clubs. Mahiki has a very exclusive clientele that includes celebrities such as Rihanna, Lady Gaga, Drake, among others. It has a Polynesian-inspired interior decor that makes you feel you are actually in a tropical island paradise. The lounge is filled with bamboo furniture, seashell lamps, and tropical plants. It also has a great menu of creative and tasty cocktails served in Tiki mugs, coconut shells and treasure chests. If you are a cocktail lover looking for something different, you must visit this unique and peculiar club.