Top 10 best rooftops in London
Tuesday, 19 of April of 2016
Spring is finally here and for those rooftops lovers, we've made this top ten of the best rooftops in the city of London.

Kensington Roof Gardens
Address: 99 Kensington High Street, Kensington, London
The Roof Gardens club is one of the London's best stylish venue located in Kensington. And In spring or summer, they have an amazing rooftop where you can see all London over it! Probably the oldest in this list (it's been around for 75 years), the Roof Gardens in Kensington it's an amazing rooftop in Kensington.
Unless closed for a private event, the gardens are open to the public, but the complex also hosts a restaurant, Babylon, which has its own outdoor space that offers a humdrum view across west London, and a nightclub (You can join in our guest list HERE). The biggest attraction, though, is the gardens' four pink flamingos.
Radio Bar Me Hotel
Address: 336-337 Strand, London
Located on the 10th floor of ME London, radio Bar Me have a bar, lounge & terrace that opens from Thursday to Saturday till 2 AM. While you're looking to the amazing views that it offers -you can see Tower Bridge, Shard London Bridge, St. Paul's Cathedral, Tate Modern, Somerset House, Southbank, among others- you can eat a "Tapas Con Vistas" a Spanish inspired Tapas menu offering diners a contemporary twist with delicacies including black olive and bitter chocolate tapenade, deep-fried courgette flowers stuffed with goats curd and slathered in truffle honey and decadent blue cheese stuffed dates wrapped in pancetta.
A different experience to share with your Friends some spring evening!
Sanctum Soho Hotel Rooftop
Address: 20 Warwick St, London
For lovers of privacy and little details, this small but cozy rooftop will be the perfect plan. Located in the heart of Soho and on the 5th floor of Sanctum Soho Hotel, there's a small Paradise. Running away from the bustling streets of Soho, you can enjoy a nice evening with your partner or your friends for disconnect of the stress of the week. A variety of drinks is served alongside a compact choice of meals and light bites.
Aqua Spirit Regents Park
Address: 240 Regent St, London
On the 5th floor of Aqua Spirit – a destination cocktail bar in the heart of west-end - is located one of the most beautiful rooftops in London. Overlooks Regent Street and offers views across London to the south. Depending on where you stand, you can see the London Eye, Liberty, the BT Tower and all the way across Mayfair. It is a popular venue for pre- or post-dinner drinks so you can enjoy the sunset of London with your Friends while you're drinking a nice cocktail. A must If you want to see the best views of London!
Shoreditch House Rooftop
Address: Ebor Street London
If you love cozy places, then, you must visit this rooftop. Located on the 6th floor, this rooftop has everything you can imagine. There's a restaurant with Mediterranean menú that you can taste with greenery, lavender beds and expansive views across east London and the City. A Little place in London to relax and also take a dip in the amazing pool. An amazing plan for a weekend after a busy week at work!
Sushi Samba
Address: Heron Tower 110 Bishopsgate, London
Located on the 38-39th floor Heron Tower, and from a short walk from Liverpool Street station, ShushiSamba has one of the best views of the city of London. This amazing experience begins when you catch the panoramic elevator, what an experience! If you love sushi and views, then, you must come to SushiSamba and live London from the top!
Sky Garden
Address: 20 Fenchurch Street, City, London
For luxury lovers, we must recommend Sky Garden. And amazing rooftop surrounded by luxury and exclusive atmosphere 37 floors above London. Visitors to the Sky Garden will arrive by the express lift at a beautifully landscaped garden at level 35 designed by award-winning landscape architects Gillespies and a bar serving champagne and canapes, a seafood bar and grill restaurant and cafe at level 37. An amazing experience you should live once!
Madison Bar
Address: 1 New Change, London
Enjoy a breathtaking view of the dome of St Paul's Cathedral while you're tasting and amazing cocktail, or maybe do you fancy some Tapas at the restaurant? This rooftop offers some options while you're enjoying an original view of the city. It's also opening in the mornings for having a coffee and start the day at the height of London!
Vertigo 42 Champagne Bar
Address: Tower 42, 25 Old Broad St
Located at the top of Tower 42, one of the city's highest buildings, the stylish bar offers spectacular views of London. A nice plan to surprise your girlfriend and also If you're a champagne lover, this is a must for you!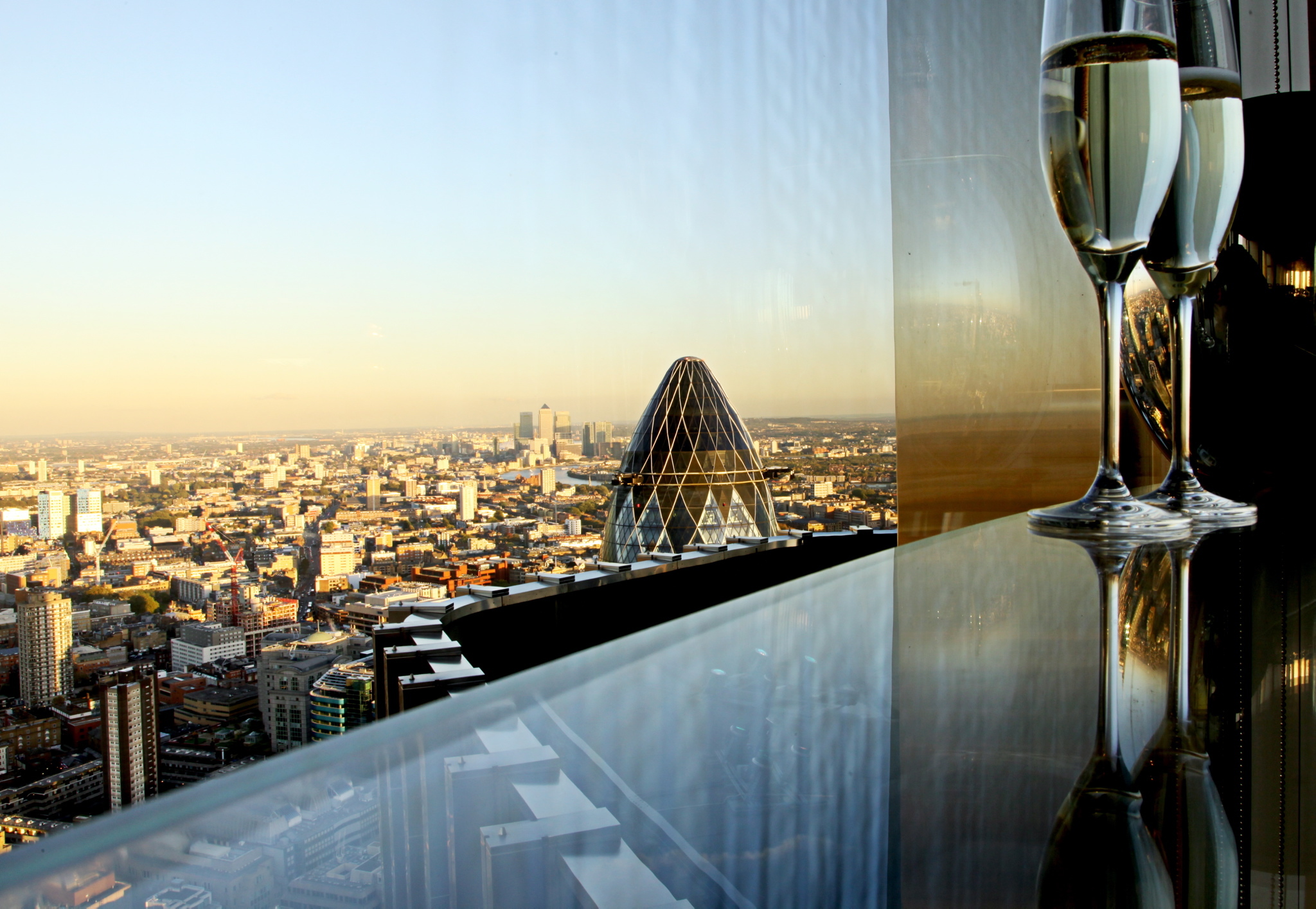 Coq ' Argent
Address: 1 Poultry
This is one of the most original rooftops of London because of the amazing design by Arabella Lennox-Boyd. From Coq' Argent, you can look over the famous Square Mile and landmarks such as St Paul's Cathedral, Mansion House, Monument and the Bank of England. Don't forget to order the most known cocktail; Swedish Flower Martini!