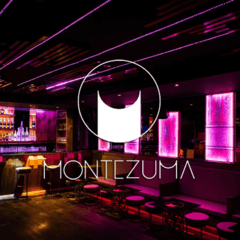 Saturday - Aztec - Montezuma Club
Montezuma Club

– 10:30h –
RnB, Hip Hop and House
Local and International
18+
Smart (NO Sportswear)
Complimentary entry for GIRLS before 11 PM, GUYS £20 cover all night.
Montezuma is an Aztec themed club located in the heart of South Kensington. Known for being a hotspot for VIP clubbers and the local Chelsea crowd, the venue is far from mainstream. Equipt with a modern vibe, it's quite unique to the London nightclub scene with hot waitresses dressed in American-Indian style outfits and live drummers encompassing the Montezuma Aztec theme. With a stylish golden interior and incredible music DJ's, Montezuma combines late night dancing in a stunning intimate setting. Join us this Saturday night and celebrate in style that the weekend is here! You won't be disappointed!
Photos of Montezuma Club
Montezuma Club
Join Lux Guest List and party at Montezuma, an Aztec themed nightclub located on the South Kensington area of London. Read more
Montezuma is a discreet and underground members club located in the heart of South Kensington, just a short walk down the famous Harrington street. The club is themed around the American Aztec culture and named after the last Aztec emperor Montezuma II who led the Aztecs during the Spanish conquest.

Montezuma will welcome you with its magnificent Aztec decors and artifacts from all over the world. You will feel welcome and comfortable being hosted by beautiful waitresses dressed in American-Indian style outfits. The bar offers an array of eclectic cocktails with a golden twist bringing back to life the rich Aztec culture. This sexy, young and fresh venue has a sleek and sophisticated vibe that attracts a high caliber clientele. The music played is a mix of modern disco, Hip Hop & R&B in charge of well known DJ's including Doug Marshal and Joshua Roberts, both highly demanded young talents. Montezuma should definitely be on the top of your list of London nightclubs. To check it out, join our Lux Guestlist and have a premium nightclub experience at this magnificent venue!