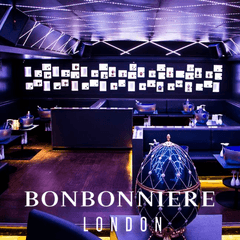 Friday - Bonbonniere
Bonbonniere – 10:00h –
Commercial House, RnB, Hip Hop
Local and International
21+
Dress to Impress
Guestlist for MALES only not available, please Call/Whatsapp for table booking.
On Friday the weekend begins and we must celebrate it! It's that time to let your hair down and let the night take over. Fancy partying in style? On weekends we strongly recommend the popular and selective Bonbonniere club. Bonbonniere has merged the best elements of the most exclusive clubs for you to have an unforgettable and unexpected experience! You will totally be surprised by the spectacular interior decor inspired by the infamous Fabergé Egg and by its sophisticated atmosphere. Put your best outfits and be the star of the evening! Remember to be glamorous, sexy and most important, elegant!
Music at Bonbonniere
Sala principal
Commercial House, RnB, Hip Hop
Photos of Bonbonniere
Bonbonniere
Bonbonniere is an elegant club located in Soho with a sophisticated decor inspired by the infamous Fabergé Egg. Read more
Bonbonniere reopens in the premises where Paper SOHO used to be!
Located in the heart of Soho's exclusive social scene, Bonbonniere is an elegant nightclub with a sumptuous and sophisticated decor inspired by the infamous Fabergé Egg. The venue was designed to separate itself from the mainstream with an exceptional interior with some seriously grand opulence dripping from every inch of the club. Bonbonniere is a popular pit-stop for London's VIP clubbers and celebrities including Paris Hilton, Will.I.Am, Nicole Scherzinger, Tinie Tempah and Jordan Dunn. The venue offers award-winning cocktails and an unbeatable ambiance with bottle service, DJs, shows and acts that grace the rich and famous with a night to remember. The Bonbonniere name is synonymous with high-end nightlife in the capital and has to be seen to be believed. We are looking forward to partying with you at this luxurious London club.