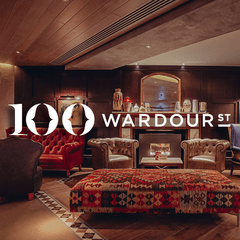 Saturday - 100 Wardour St
100 Wardour St – 10:00h –
Soul, Funk, Pop and Dance
Local and International
21+
Glam and elegant (Guys must wear collared shirts and shoes)
100 Wardour Street is an exciting destination for dining and live music, right in the heart of London's vibrant Soho. Saturday focuses on the best of Soul, Funk, Pop & Dance with all the hits performed by the best musicians in town. Table reservation recommended.
Music at 100 Wardour St
Sala principal
Soul, Funk, Pop and Dance
100 Wardour St
VIP guest lists & table booking at the exclusive 100 Wardour Street. Read more
Boasting a breakfast lounge, a bar, a restaurant space and a clubbing area, 100 Wardour Street is set to become Soho's go-to spot for just about everything - from working and eating to drinking and dancing.

100 Wardour St has taken over the enormous space vacated by Floridita. The ground floor here hosts a lounge space with freshly ground coffee and gluten-free pancakes; a perfect spot to head to if you need to escape the office. Head back post 5 pm to find this floor offering prosecco on tap and an all-day restaurant plating up crispy squid with chili and lime as well as coal-fired garlic baby chicken. De-licious.

Downstairs you'll find a lavish basement space that draws on its heritage as the historic Marquee Club. This is your place for fantastic cocktails and entertainment; DJ sets ring out into the night and there's live music five nights a week.